From the Files of
(G.C.B.R.O.)
---
---
Reported by Confidential
---
This Report Contains Video Files
Update on December 7, 2001
It Also contains the last followup findings at the bottom of this page dated on 12-16-01 By Bobby Hamilton
RECEIVED: From the G.C.B.R.O. Web Site Submission Form
DATE: 08/10/01

TIME: 3.00 P.M.

LOCATION: Schouweiler, LUXEMBOURG, rue de Schouweiler
(Luxembourg is between France and Belgium)


TERRAIN: Wooded

OBSERVED: I decided to go out for a walk, I drove to a big forest (in Schouweiler). There are no streets or noise near the forest. I had to walk 1km to reach the forest. I took my cam with because I wanted to film the nature in that great weather. I started to film, then I made a few picshots with my cam. After some time I decided to go home because I was really deep in that forest.
My cam was turned off so i wasn't ready to film. First I heard the noise of breaking branches, I looked around but i didnt see anything. Then suddenly I saw, 'it'.
First it was a moving shadow in the distance. It looked like another person walking around. I approached carefully. It was about 2m big, very huge, dark haired (I think it was black or very dark brown). It didn't make any noise and there was no particular smell.
I only saw his back side, i couldnt see his face clearly. It was moving away from me, not running, but still fast with great steps. I felt like paralysed, unable to move or to think clearly. My cam was turned off and still on picture mode, I quickly turned it on and made that snap ( look at the picture).
After that snap i think another minute passed, 'it' was nearly disappeared in the far forest.
I switched my cam to film-mode and tried to film it. I started to film 3 times because i needed to stop several times to follow it.
The whole thing is filmed with a far zoom. Because of that zoom its not filmed very straight. I tried to walk while filming and I didnt look through my cam because i prefered to watch that creature with my own eyes. After the third time I filmed it, I couldnt follow anymore, too much trees. I couldnt see it anymore. I tried to find any foodprints but the ground was too dry.

ACTIVITIES OF WITNESS(ES): I am the only witness
DESCRIPTION OF CREATURE: It was about 2m big, very huge (not skinny), dark haired, like black fur. it moved on 2 legs like a human being.
It looked in fact like a huge person, but it had a fur like an ape/dog. I didn't see clearly his face and feets.
OTHER NOTES: I have 3 mpegs and 2 pictures of it.
Follow up:
OTHER SIGHTINGS IN THIS AREA?: Not Known
---
HERE IS THE VIDEO STILL PHOTOGRAPH THAT
HANSEN FRANKY TOOK AS REPORTED ABOVE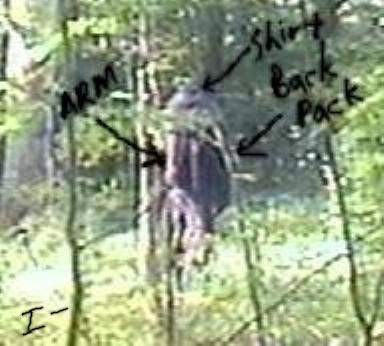 Copyright, all rights reserved
GCBRO and Hansen Franky

Update on December 7, 2001
I sent a short e-mail to Mr. Franky and this was his reply to my asking
for more information:
hi again
here are some answers.
it happened the 10th august 2001 .
for any more details about the encounter look at your own page :P(i already send u the whole story where and when it happened!)
No life hasnt changed because of the video(why should it?) i only developed interests concerning bigfoots(i had a look at many other reports on pagey in the www)
so my name is still franky hansen, 20 years(not married yet) and i am still studying.
i was a few times back to the place but i didint see sth special(i went back to make photos of the place where it happend).
many sites said it was a hoax, they ignored me or sent some nasty mails.(erik berjor was really angry and sent 2 mails every day!) some other sites showed interest in it.
there was one main problem: my name and my email adress,
lots of ppl said it is a joke because of my bond007@XXXXX email adress (but i already have this email since 5 years, i am a 007 fan,)
other problem was my name, they told me that years ago there was a man called frank hansen who had an iceman, so they didnt believe me becasue i have the same name, (some asked my id so i sent them a copy!!!)
ok thats all
hope it helps a little
bye
fh
---
Copyright, all rights reserved
GCBRO and Hansen Franky
---
VIEW FIRST OF THREE LOWER QUALITY VIDEOS
Copyright, all rights reserved
GCBRO and Hansen Franky
2001
---
VIEW SECOND OF THREE LOWER QUALITY VIDEOS
Copyright, all rights reserved
GCBRO and Hansen Franky
2001
---
VIEW THIRD OF THREE OF LOWER QUALITY VIDEO

Copyright, all rights reserved
GCBRO and Hansen Franky
2001

---
There are different views on the video
of the creature walking away from the eye witness.
CLICK HERE - VIDEO STILLS FROM VIDEO OF HANSEN FRANKY
VIDEO STILLS DONE BY COURTESY OF DALLAS GILBERT AND
THE OHIO BIGFOOT RESEARCH GROUP CLUB
---
The G.C.B.R.O. had some outside work done on the stills and video.
Below is the photo from the work done. It is evident that this is a HOAX!
The supposed creature is a hiker with a backpack on. Thanks to Patrick T. for
his enhancements on this photo and also to Joe Heinan for continuing on with what we initially started with and had his enhancements done, to the point that
you can clearly see the water bottle on the side of the hiker. Those are available on Joe Heinan's Minnesota Bigfoot site.
(Click the above link to go there)
If you watch the video closely you can see the subject start to move when
the video first starts and you can see the royal blue of the backpack stand out, as the sun hits it and it reflects the color towards the cameraman.
I noted this when I first seen it. Now I ask the viewers of this site,
to look at the photo below, then go view the video for yourselves.
Joe's site has more in depth analysis of it since he spent quite a bit of
time working on this, so please visit his web site for more info and the
pictures of the water bottle enhancements etc.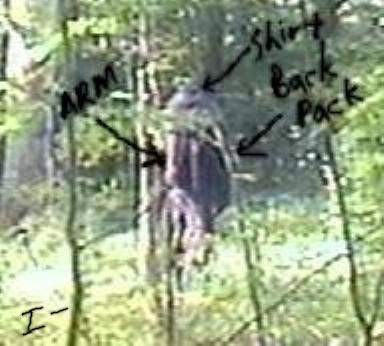 The G.C.B.R.O. does not endorse or stand behind hoaxes or hoaxers. This field has
enough black eyes from these kinds of people, and this is another one that is no
different. We are in search of the truth. And THIS video/photo does not have any truth in it!
---
Report Posted to the G.C.B.R.O. web site by Mary Green
Go Back To The Gulf Coast Bigfoot Research Organization Home Page


View GCBRO's Sketches And Photographs Pages