---
From the Files of the
Gulf Coast BigFoot Research Organization
(G.C.B.R.O.)
---
Reported by: Confidential
---
Report Received From: The GCBRO Online Report Submission Form. Follow-up report from GCBRO Field Researcher Don McDonald, along with a few field photos are posted at the bottom of the report.

Report Posted To GCBRO Web Site On: August 1, 2007
DATE: July 26, 2008

TIME: 5:44 PM

LOCATION: Copiah County, Mississippi

TERRAIN: Wooded

OBSERVED: At 5:44 pm, on Saturday, July 26, 2008, we entered "an undisclosed" Wildlife Management Area, traveling in our Ford Windstar, toward the only creek bridge on the WMA road. Immediately upon entering the gate, we had encountered wildlife: deer, quail, and even a "bear"- well, perhaps not a bear, but something. I thought it was a human; however, on reflection, I'm inclined to consider otherwise.
Decide for yourself:
"How exciting! There are definitely deer here. We saw deer the last time we came, too. Let's get a license this year and come down here together. Ooh, watch out for that hole!" I glanced at XXXX to see if he was paying proper attention to the road. It seemed that he was giving it moderate attention, but was more engrossed in the track of turned up ground beside us.
"I bet they've got sweet potatoes planted there, or rye grass." He strained to see. "Yeah, they've definitely got some stuff there just for deer. I'm ready to buy a license. I know this place well, and it's a great place to hunt. There's a creek that runs through here -"
I interrupted in earnest, "Watch out for those spikey logs, XXXXX. We're not in the truck, you know." Glancing again with interest toward his attention on not getting us stuck on this wilderness road with a flat tire or worse, I could tell that he was in the beginning throes of deer season fever again.
He plowed on, not only at the same rate of speed as if I had never spoken, but continued with his story of his boyhood deer-hunting adventures here at the WMA, as if I had never interrupted. I would have to be the responsible driver and watch the road carefully for the sake of the vehicle, while at the wheel, he reminisced over quail, rabbit, squirrel, turkey, and deer seasons past. I mindfully watched for potholes, wash-outs, sticks of varying menace, trees almost across the road, and daring wildlife crossings, and up ahead I saw the man. He was walking toward us about four or five hundred feet away, evidently so engrossed in something that he didn't care that he was in the middle of the road with oncoming traffic. I noticed that he wore no hat in this sun, and as a matter of fact, I wasn't sure what he was wearing. He seemed as oblivious as XXXX. "XXXX, people in the road." I raised my right arm to point, as my left swatted toward XXXX for attention. He was fully absorbed in the woods ahead, but surely he saw this. "Don't hit the man!" I bellowed as I watched the walker look up. There I was pointing, and stunned as I met the intense and surprised gaze full face on. For a second or two, the walker was as open mouthed as I was, then recovered himself in a rapid half turn toward the brush on the side of the road. In a flash, all I got was a knee raised, arms up, in an exit-stage left attitude. I think I glanced toward XXXX, but back again, and what I had seen was gone.
"Where?" XXXX was looking now. There was nothing to see. We were now upon the place where, just a moment ago, the man had been walking. I twirled around to get a glimpse of where he was, straining desperately to find him. Nothing. I was baffled. Where did he go? Had he actually been wearing a deer-skin coat with fringe in July? I tried to reconcile the improbability in my mind. What had he been wearing? Perhaps a desert camouflage? Uh, perhaps nothing? Whatever he might have had on, it was definitely the same color all over, actually, the same color as his hair. Curiously, I realized that he had been empty-handed. You wouldn't catch me walking through this wilderness without a gun. Walking…where was his vehicle anyway? XXXX stopped before the bridge and quizzed me. I had seen a deer, he said.
I've seen plenty of deer, my dear, but never walking upright. We debated the issue at length until we came to the main gate, and sign in area. Posted there was a black bear notice. Report any sighting, it said. That's what I had seen, according to XXXX. Black bear can differ in coloring to almost blond, and often walks upright. The only other alternative was a Yeti, Bigfoot, Sasquatch or some such.
Ok, right, I had perhaps seen a bear. Except, what bear takes off in flight on it's hind legs? It was not a bear's face I had gazed upon. I had probably not seen a man. It didn't make sense that I had.
What had I seen, a Wookie? Yeah, right.
He was there, plain as day, in full sun and glory. I saw what I saw. The encounter was real.
So, what did I see? I have my theory. Nonetheless, I am reporting the sighting.

Activities of Witness: Passenger in car, listening to husband talk about the area, while studying the landscape of the immediate road, cognizant and on the watch for wildlife to prevent roadkill.

Description of Creature: Upright with a sure and easy/graceful movement; brownish-blond hair; very tall & muscular; large, man-like (arms, elbows, legs, knees, neck, and head with hair, not seeming fur-like); penetrating dark eyes; nose more like a man's but not snout-like; hairy (all over), and perhaps longish, hanging off of arms like fringe on the arm of a deer-skin coat

Other Notes: Being hard of hearing, I compensate by trying to be extra attentive to my surroundings.

Other (Informational or Encounter History in the General Area) Notes: Not by me, but my husband recollected an experience that he had not previously shared before, which had occurred in the same area along the creek bed while on a hunt.

Additional Notes and or Follow up Comments: Follow up report made by Don McDonald on 7-27-08, a few field photos are included below report.
I called the folks and they wanted to meet right then so I loaded up and hit then road. Very nice location and the people sounded truthful. He was an ex military police and she is a retired school teacher. She is the one that saw the creature and was very excited that I could come when I did. Upon talking to them, he's had several encounters in the past. Smelled them, knew all about limb formations, Wood knocking and such and has experienced this over a number of years. He was looking for a place to hunt as he hasn't hunted in 10 or so years and now that he knows these creatures are in this are. He told me he will not hunt this area even though there are many deer at this location. We found a few things here including LOTS of deer and hog tracts along with seeing several coveys of Quail. I did find a couple limbs broken off, a nice stump that had been torn up a bit, like something looking for Grubs and also a few very large game trails.

---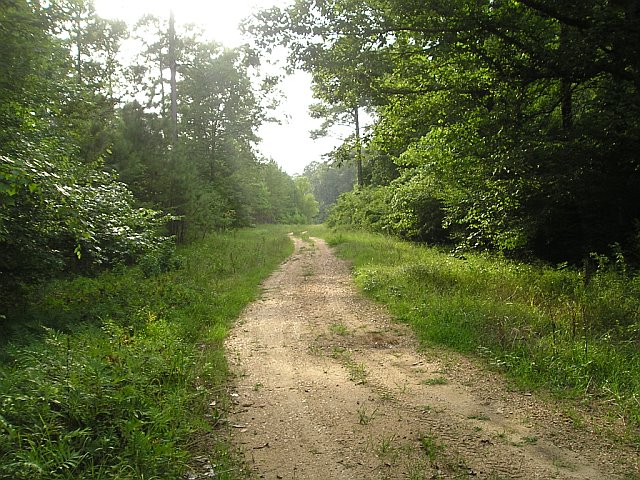 ---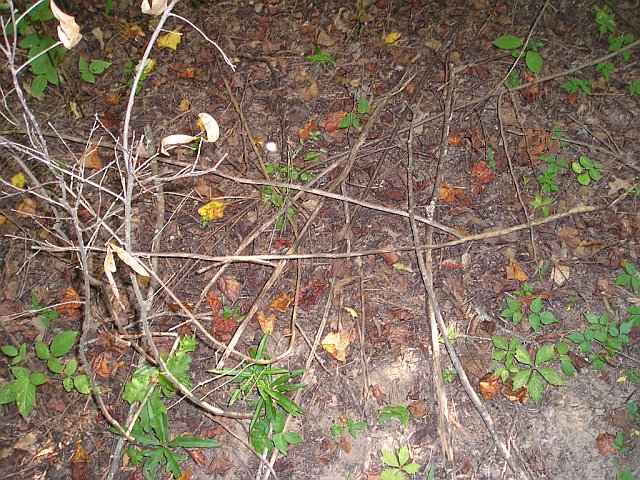 ---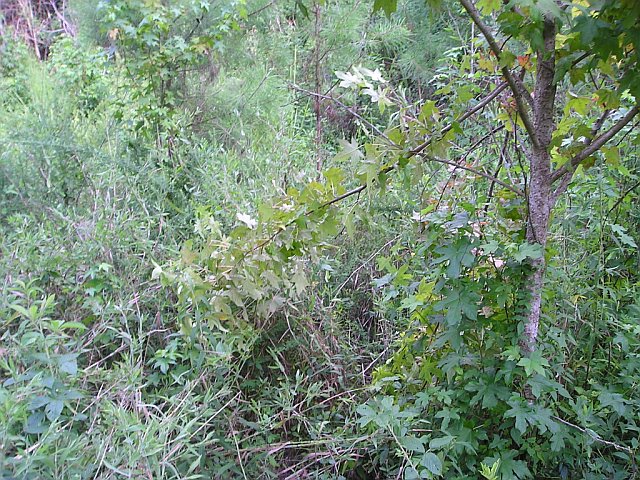 ---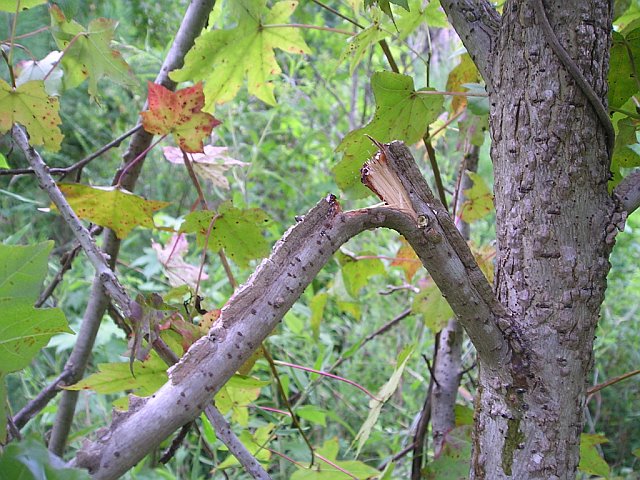 ---
Report Posted to the G.C.B.R.O. web site by: GCBRO Web master
---
Gulf Coast Bigfoot Research Organization Home Page
View Sketches And Photographs
Submit A Bigfoot Report
---
All information (reports, sketches, and pictures) contained within are the sole property of the
Gulf Coast BigFoot Research Organization (G.C.B.R.O.) and or the original submitting party.
No information may be reproduced, in part or in whole, without the express written consent of
the Gulf Coast BigFoot Research Organization (G.C.B.R.O.) or the original submitting party.