---
Mary Green tells her story of how she snapped this photo.
Mary Green is one of the top Bigfoot researchers in the South.
---
All information (reports, sketches, and pictures) contained within are and are the sole property of the Gulf Coast BigFoot Research Organization (G.C.B.R.O.) and the submitting party. No information may not be reproduced, in part or in whole, without the express written consent of the G.C.B.R.O. or submitting party.
---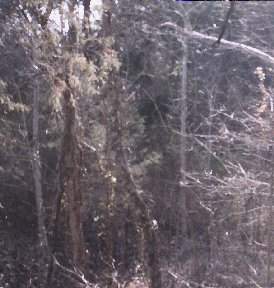 Tennessee Bigfoot ©
---
Saturday, February 25, 1998 Field Trip©
On February 21, 1998, in a mountainous area of the Northeastern part of middle Tennessee, two large, humanoid footprints were found by GCBRO researcher, Mary Green and fellow independent researcher Jodi Wilson of Sparta, Tennessee. These prints were 14 ½ inches in length and 7 ½ inches wide at the heel, a left and right foot track approximately 19 inches apart, apparently where a very large humanoid had stood. There were only four toes visible in the prints. The left foot was imprinted deeper in the ground than the right foot, and the four toes were very easily seen in the left track, but the right foot was on a rocky area and could only imprint slightly on the hard surface that it was on. There was a slight covering of earth on top of a large flat rock where the right foot track was imprinted. Neither myself, nor Jodie could make any kind of a track as we walked the area and looked for more tracks. I'm a large person and I did not leave an imprint of any kind while standing right next to these two tracks. Therefore, another expedition in the same area was again ventured on February 25, 1998, 11:00 am CST, with Mary Green and John Green, JR, the fifteen-year-old son of Mary Green.

This is the footprint that was found by Mary Green and Jodi Wilson on the first excursion into the area. It was 14 1/2 inches in length and 7 1/2 inches wide at the heel. ©
Mary Green's Report: We had been making numerous trips to the area since the fall of 1997 to do some personal investigations on some of the reported bigfoot sightings there. We took the necessary equipment to cast any of these type footprints found previously, and also a 35mm camera, a Kodak, Star ef, loaded with 200-speed film.
Our first exploration on February 25, 1998 was of an adjacent side of the same mountain where Jodi Wilson and I had found the humaniod footprints on February 21, 1998. John and I wanted to see if there was another feasible approach to the same area where these footprints had been found. We followed a path around the edge of a small man made lake, made by the backwaters of a watershed or small type dam. After a half an hour, John and I were able to find a passable clearing to proceed through and ascend the mountain in a direct line to the spot intended. The climbing was difficult and we began to hear some very strange, high-pitched birdcalls coming from the top of the mountain. The thick patches of pine trees made it quite difficult to see very far ahead. About half way up the mountain, the silence seemed to thicken in between the shrill birdcalls. There were no birds in the area that could be seen (flying or perched), no other signs of wildlife in the area. Also, the feeling of being watched was very strong at this point.
Reaching an impassable briar thicket, we paused to catch our breath. That's when we heard the sounds of something or someone approaching us from directly above and ahead of us. We held our breath and listened for several minutes as the sounds approached us, but still we couldn't see what was making them. We could hear brush rustling a few yards away and still could not see anything ahead of us. The weather conditions were clear, just a few feathery clouds overhead, but the woods were dark and it was very difficult to see into the thick stands of timber. That incessant feeling of something not right, and a fear of something unknown just a few yards away, escalated the decision to retreat for the present moment and try the other route up the mountain taken on February 21. I did not want to endanger my son any more than was necessary, and so I made a quite reluctant decision to play it safe this time, but before turning around, John caught a glimpse of something tall and dark brown further up on the mountainside. Right away, we turned and started down, both of us looking back occasionally, while hearing something following us at fairly close range. The birdcalls continued closer than ever to us, and were occurring more frequently during our descent.
We rested back at the Jeep for about fifteen minutes, and the time was now 12:15 PM, CST when we started up the same mountain again, but on the front side of it, along a small pathway that had been there for many years. We were no more than 300 yards up when the birdcalls started again, but much farther away this time. This caused us to stop and look in the direction that the birdcalls came from. After a moment, John pointed to a spot very high up on the mountain in a southwesterly direction. I strained to see what he was seeing, but I needed new glasses and could not make out anything at first. I do not own a pair of binoculars, so I continued to stare until all at once I saw a very huge form, black, very hairy, it's hair shining brightly as the sun glistened on it. A very tall black animal, walking upright, was clearly passing between two trees. My first instinct was BEAR! But yet it did not walk on all fours, just walked upright like a man in a slouched over position. The sighting was brief, and it fascinated me. I could not believe what I had just seen. There was no way to determine just how tall this creature was either, so far up on the mountain. The size of its body, the midsection, and rear of the animal I viewed was tremendously broad, and extremely muscular. I had previously interviewed someone who had known the area for over 40 years and had asked the question if any bears had ever been seen in the area. "No!", was his very emphatic reply, and I was actually scoffed at over asking such a question.
I considered the possibility of taking a picture of something so far away and with such a deficient camera, but finally decided it would be worth a try. I was certain I would not capture anything but was going to at least try anyway. I had to point the camera directly towards a noonday sun, and I could clearly see a rainbow effect in the camera's viewfinder. I snapped just one photo, a rather hurried one, as I was extremely doubtful of any good it would do from having such terrible conditions (cheap camera and direct sunlight) to contend with in the first place.
We then waited at least ten minutes while I strained to catch another look at the animal I had seen before for such a brief moment. John, however, said he could see it quite clearly on several occasions as it passed between trees. So therefore, I asked him to tell me what he saw and what it was doing. There was no doubt in my mind; he was seeing the same animal I had seen myself. He has very keen eyesight. He told me that it was pacing backwards and forwards, like an agitated animal would do. He said it would take three or four steps and look towards us in a sideways position, turning its upper body at the waist as it turned to look at us. Then it would pace back the other way, three or four paces, before looking at us again in the same way. This intrigued me, so I asked John to act out exactly what he saw it doing, right then and there as he watched it pace backwards and forwards. I needed a clear idea of what he saw the animal doing. There was no doubt in his mind at this moment that he was seeing a bigfoot.
It was apparant that the bigfoot was not moving any closer towards us, so we decided to go ahead with our plans to climb the mountain just to see what the animal might do. The birdcalls had stopped for the present moment, and all was silence again. I could hear nothing except the sounds of our footsteps as we trudged up the path. John said it continued to watch us before ducking out of sight behind some trees and we had no further observation of it as we neared the top of the mountain.
We reached the place where Jodi and I had found the two footprints before, and a washing rain the day before had obliterated any last remains of them. We decided to go a little further and then sat down to rest at the side of the trail that led deep into the mountains. We had no sooner sat down, when the birdcalls started up once more, as we could hear two at this time, one near us and ahead on the trail, and one much further away on the same trail. The birdcalls did indeed, sound like they were answering each other. There was only two or three seconds between each call made. First the near one, then the one further away, answering almost immediately. John and I motioned to each other to be quiet and we listened until they stopped again, but I must admit the hair was standing straight up on the back of my neck at this moment in time. I was quickly mulling over another retreat down the mountainside when another, much deeper, much less shrill call, not unlike a bird, was heard some distance away on the trail. It was totally unlike the calls we had heard before. It was very long, and sounded quite threatening. After hearing it a couple more times, and coming closer with each call, I casually stood up, so as not to frighten John, and said, "I think we've had enough for the day, let's head back down the mountain." He stood up immediately and I tried to remain as calm as possible as we swiftly walked back down the trail towards the place where I had parked the Jeep. I knew it was time to leave the area. That last call was definitely very threatening in nature. I strongly believe that all humans possess a sixth sense in times of danger. Also, if you are familiar with the woods to any degree, you just know by gut instinct when something is very wrong.
We descended down the trail in a very business like fashion. Instinctively, I felt it was wrong to run, to show any signs of outward fear at this time. We caught glimpses over our shoulders of a large, black shape dodging behind the cover of trees and bushes as we went down. The bigfoot continued to follow us until we were within 200 yards of our Jeep.
Later, after processing the film, with the aid of a scanner owned by Mike Ogletree, it was very obvious that I had captured this black bigfoot on film. Two were seen by John-- one much smaller and dark brown (glimpsed by him on our first approach up the mountain), and the taller black one that paced above us on the mountainside on our second approach. The photograph is not very good, but it is obviously a picture of what we saw February 25, 1998, approximately at 12:15 PM, CST.
---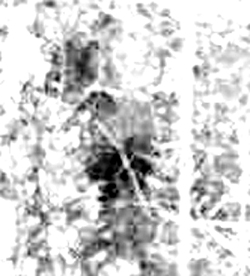 Here is a greyscale image of the Bigfoot photo taken by Mary Green. Notice the face is behind a branch where it hides behind the trees.
In the background, above the first bigfoot's head, is another shape of a bigfoot in retreat. ©
---

Enlargement of same photo. ©
---

Here is a panoramic view of the photograph. ©
---
NEW! VIEW PROFESSIONAL PHOTOGRAPHERS STATEMENT CONCERNING THE BIGFOOT PHOTOGRAPH OF MARY GREEN


---

All images contained within this page are by the Gulf Coast Bigfoot Research Organization. ©

---
All information (reports, sketches, and pictures) contained
within are the sole property of the Gulf Coast BigFoot
Research Organization (G.C.B.R.O.) and the submitting party.
No information may be reproduced, in part or in whole, without
the express written consent of the G.C.B.R.O. or submitting
party.
BigFoot, Bigfoot, bigfoot, BIGFOOT, BIG FOOT, Big Foot, big foot, Sasquatch,
sasquatch, Yeti, yeti, Abominable Snowman, abominable snowman,
Monkey Man, monkey man, big foot research, bigfoot research,
Bigfoot Reports, Big Foot Reports, big foot reports, BIGFOOT REPORTS,
Bigfoot Sightings, Big Foot Sightings, big foot sightings,
Sightings Database, Bigfoot Sightings Database, bigfoot sightings database,
Big Foot Sightings Database, big foot sightings database, Research,
bigfoot research, Bigfoot Researchers, bigfoot researchers,
Big Foot Research. big foot research, bigfoot researchers, Big Foot Researchers, big foot researchers,
Bigfoot Investigators, bigfoot investigators, Big foot investigators,

---
Transfer interrupted!
vestigators, snow man, Snow man, snowman, Snowman,
Snowmen, snowmen, Monkey Men, monkey men, big foot research,
bigfoot research, research, bigfoot sightings, sightings, bigfoot encounters, encounters,
MoMo, momo, Mo Mo, mo mo, Fouke Monster, Fouke, Arkansas,
Boggy Creek Monster, Caveman, Bigfoot footprints, big footprints,
Honey Island Monster, monsters, Monsters BigFoot, Bigfoot, bigfoot,
BIGFOOT, BIG FOOT, Big Foot, big foot, Sasquatch, sasquatch,
Yeti, yeti, Abominable Snowman, abominable snowman, Monkey Man,
monkey man, big foot research, bigfoot research, research, bigfoot sightings,
sightings, bigfoot encounters, encounters, MoMo, momo, Mo Mo,
mo mo, Fouke Monster, Fouke, Arkansas, Boggy Creek Monster, Caveman,
Bigfoot footprints, big footp
rints, Honey Island Monster, monsters,
Monsters BigFoot, Bigfoot, bigfoot, BIGFOOT, BIG FOOT, Big Foot,
big foot, Sasquatch, sasquatch, Yeti, yeti, Abominable Snowman,
abominable snowman, Monkey Man, monkey man, big foot research,
bigfoot research, research, bigfoot sightings, sightings, bigfoot encounters,
encounters, MoMo, momo, Mo Mo, mo mo, Fouke Monster, Fouke,
Arkansas, Bog
gy Creek Monster, Caveman, Bigfoot footprints,
big footprints, Honey Island Monster, monsters, Monsters BigFoot, Bigfoot, bigfoot,
BIGFOOT, BIG FOOT, Big Foot, big foot, Sasquatch,
sasquatch, Yeti, yeti, Abominable Snowman, abominable snowman, Monkey Man,
monkey man, big foot research, bigfoot research, research, bigfoot sightings,
sightings, bigfoot encounters, encounters, MoMo, momo, Mo Mo, mo mo,
Fouke Monster, Fouke, Arkansas, Boggy Creek Monster,
Caveman, Bigfoot footprints, big footprints, Honey Island Monster, monsters,
Monsters BigFoot, Bigfoot, bigfoot, BIGFOOT, BIG FOOT,
Big Foot, big foot, Sasquatch, sasquatch, Yeti, yeti, Abominable Snowman,
abominable snowman, Monkey Man, monkey man,
big foot research, bigfoot research, research, bigfoot sightings, sightings, bigfoot encounters, encounters,
MoMo, momo, Mo Mo, mo mo, Fouke Monster, Fouke,
Arkansas, Boggy Creek Monster, Caveman, Bigfoot footprints, big footprints,
Honey Island Monster, Monsters, monsters, Hairy monsters,
Billy Whack monster, bigfoot screams, Big foot screams, Bigfoot Screams, big foot screams,
manimals, man animals, smelly animals, smelly monsters,
Smelly Monsters, Tall Animals, tall animals, werewolf, Werewolf, werewolves, Werewolves,
wookie, Wookie, wookies, Wookies, Goatman, goatman, Goat Men,
goat men, Goat Man, goat man, Goatmen, goatmen, Almas, Strange sounds,
strange sounds, Weird Sounds, weird sounds, Stone Giants, stone giants,
Stone Coats, stone coats, Giant, giant, Giants, giants, Hairy Giants,
hairy giants, Footprints, Foot Prints, foot prints, foot prints, Tracks,
Big Tracks, tracks, big tracks, Strange Footprints, strange footprints, Swamp Monster,
swamp monster, Swamp Monsters, swamp monsters,
Swamp Ape, swamp ape, Forest Animals, forest animals, Forest Monsters,
forest monsters, Southern Monsters, southern monsters, American Monsters,
american monsters, American Bigfoot, american bigfoot, American Big Foot,
american big foot, Mystery Monsters, mystery monsters,
Bigfoot Sounds, Big Foot Sounds, bigfoot sounds, big foot sounds,
American Apes, american apes, crytozoology, cryptozoologist,
CRYPTOZOOLOGY, CRYPTOZOOLOGIST, SASQUATCH, Uknown Animals,
unknown animals, UKNOWN ANIMALS, BEAST, beast, Beast,
Myths, myths, MYTHS, LEGENDS, legends, Legends, Texas Bigfoot Reports,
TEXAS BIGFOOT REPORTS, texas bigfoot reports,
Alaska Bigfoo Reportst, alaska bigfoot reports, ALASKA BIGFOOT REPORTS,
Alabama Bigfoot Reports, ALABAMA BIGFOOT REPORTS,
alabama bigfoot reports, Arizona Bigfoot Reports, ARIZONA BIGFOOT REPORTS,
arizona bigfoot reports, Arkansas Bigfoot Reports,
ARKANSAS BIGFOOT REPORTS, arkansas bigfoot reports, California Bigfoot Reports,
CALIFORNIA BIGFOOT REPORTS, california bigoot reports,
Colorado Bigfoot Reports, COLORADO BIGFOOT REPORTS, colorado bigfoot reports,
Connecticut Bigfoot Reports, CONNECTICUT BIGFOOT Reports,
connecticut bigfoot reports, Deleware Bigfoot Reports, DELEWARE BIGFOOT REPORTS,
deleware bigfoot reports, Florida Bigfoot Reports, FLORIDA BIGFOOT REPORTS,
florida bigfoot reports, Georgia Bigfoot Reports,
GEORGIA BIGFOOT REPORTS, georgia bigfoot reports, Hawaii Bigfoot Reports,
HAWAII BIGFOOT REPORTS, hawaii bigfoot reports,
Idaho Bigfoot Reports, IDAHO BIGFOOT REPORTS, idaho bigfoot reports,
Illinois Bigfoot Reports, illinois bigfoot reports, ILLINOIS BIGFOOT REPORTS,
Indiana Bigfoot Reports, indiana bigfoot reports, INDIANA BIGFOOT REPORTS,
Iowa Bigfoot Reports, IOWA BIGFOOT REPORTS,
iowa bigfoot reports, Kansas Bigfoot Reports, kansas bigfoot reports, KANSAS BIGFOOT REPORTS,
Kentucky Bigfoot Reports, kentucky bigfoot reports,
KENTUCKY BIGFOOT REPORTS,
Louisiana Bigfoot Reports, louisiana bigfoot reports, LOUISIANA BIGFOOT REPORTS,
Maine Bigfoot Reports, maine bigfoot reports, MAINE BIGFOOT REPORTS,
Maryland Bigfoot Reports, maryland bigfoot reports,
MARYLAND BIGFOOT REPORTS, Massachusetts Bigfoot Reports,
massachusetts bigfoot reports, MASSACHUSETTS BIGFOOT Reports,
Michigan Bigfoot Reports, michigan bigfoot reports,
MICHIGAN BIGFOOT REPORTS, Minnesota Bigfoot Reports, minnesota bigfoot reports,
MINNESOTA BIGFOOT REPORTS, Mississippi Bigfoot Reports,
mississippi bigfoot reports, MISSISSIPPI BIGFOOT REPORTS,
Missouri Bigfoot Reports, MISSOURI BIGFOOT REPORTS,
missouri bigfoot reports, Montana Bigfoot Reports, montana bigfoot reports,
MONTANA BIGFOOT REPORTS, Nebraska Bigfoot REPORTS,
nebraska bigfoot reports, NEBRASKA BIGFOOT REPORTS, Nevada Bigfoot Reports,
nevada bigfoot reports, NEVADA BIGFOOT REPORTS,
New Hampshire Bigfoot Reports, new hampshire bigfoot reports,
NEW HAMPSHIRE BIGFOOT REPORTS,
New Jersey Bigfoot Reports, new jersey bigfoot reports,
NEW JERSEY BIGFOOT REPORTS, New Mexico Bigfoot Reports,
new mexico bigfoot reports, NEW MEXICO BIGFOOT REPORTS,
New York Bigfoot Reports, new york bigfoot reports, NEW YORK BIGFOOT REPORTS,
North Carolina Bigfoot Reports, north corolina bigfoot reports,
NORTH CAROLINA BIGFOOT REPORTS, North Dakota Bigfoot Reports,
north dakota bigfoot reports,
NORTH DAKOTA BIGFOOT REPORTS, Ohio Bigfoot Reports, ohio bigfoot reports,
OHIO BIGFOOT REPORTS, Oklahoma Bigfoot Reports, oklahoma bigfoot reports,
OKLAHOMA BIGFOOT REPORTS, Oregon Bigfoot Reports,
oregon bigfoot reports, OREGON BIGFOOT REPORTS,
Pennsylvania Bigfoot Reports, pennsylvania bigfoot reports,
PENNSYLVANIA BIGFOOT REPORTS,
Rhode Island Bigfoot Reports, rhode island bigfoot reports,
RHODE ISLAND BIGFOOT REPORTS, South Carolina Bigfoot Reports,
south carolina bigfoot reports, SOUTH CAROLINA BIGFOOT REPORTS,
Tennessee Bigfoot Reports, tennessee bigfoot reports,
TENNESSEE BIGFOOT REPORTS, Utah Bigfoot Reports,
utah bigfoot reports, UTAH BIGFOOT REPORTS, Vermont Bigfoot Reports, vermont bigfoot reports,
VERMONT BIGFOOT REPORTS, Virginia Bigfoot Reports,
virginia bigfoot reports, VIRGINIA BIGFOOT REPORTS, Washington Bigfoot Reports,
washington bigfoot reports, WASHINGTON BIGFOOT REPORTS,
West Virginia Bigfoot Reports, west virginia bigfoot reports,
WEST VIRGINIA BIGFOOT REPORTS, Wisconsin Bigfoot Reports,
wisconsin bigfoot reports, WISCONSIN BIGFOOT REPORTS,
Wyoming Bigfoot Reports, wyoming bigfoot reports,
WYOMING BIGFOOT REPORTS, Hairy hominids, Giant Apes, Apes, Walking Apes,
Bipedal hominids, Cryptids, Great Apes, Ape Sightings, Bigfoot sightings,
Bigfoot Database, Bigfoot Reports Database, Bigfoot Encounters, Bigfoot stories,
Sasquatch encounters, Sasquatch sightings, Walking giants,
Smelly Giants, Monster Encounters, Monster Sightings, Monster Reports,
research, bigfoot sightings, sightings, bigfoot encounters, encounters,
MoMo, momo, Mo Mo, mo mo, Fouke Monster, Fouke,
Arkansas, Boggy Creek Monster, Caveman, Bigfoot footprints, big footprints,
Honey Island Monster, monsters, Monsters BigFoot, Bigfoot,
bigfoot, BIGFOOT, BIG FOOT, Big Foot, big foot, Sasquatch, sasquatch, Yeti, yeti,
Abominable Snow
man, abominable snowman, Monkey Man,
monkey man, big foot research, bigfoot research, research, bigfoot sightings, sightings,
bigfoot encounters, encounters, MoMo, momo, Mo Mo, mo mo,
Fouke Monster, Fouke, Arkansas, Boggy Creek Monster, Caveman, Bigfoot footprints,
big footprints, Honey Island Monster, monsters, Monsters BigFoot,
Bigfoot, bigfoot, BIGFOOT, BIG FOOT, Big Foot, big foot, Sasquatch, sasquatch,
Yeti, yeti, Abominable Snowman, abominable snowman, Monkey Man,
monkey man, big foot research, bigfoot research, research, bigfoot sightings,
sightings, bigfoot encounters, encounters, MoMo, momo, Mo Mo,
mo mo, Fouke Monster, Fouke, Arkansas, Boggy Creek Monster,
Caveman, Bigfoot footprints, big footprints, Honey Island Monster,
monsters, Monsters BigFoot, Bigfoot, bigfoot, BIGFOOT, BIG FOOT,
Big Foot, big foot, Sasquatch, sasquatch, Yeti, yeti, Abominable Snowman,
abominable snowman, Monkey Man, monkey man, big foot research,
bigfoot research, research, bigfoot sightings, sightings,
bigfoot encounters, encounters, MoMo, momo, Mo Mo, mo mo, Fouke Monster, Fouke,
Arkansas, Boggy Creek Monster, Caveman, Bigfoot footprints, big footprints,
Honey Island Monster, monsters, Monsters BigFoot, Bigfoot, bigfoot,
BIGFOOT, BIG FOOT, Big Foot, big foot, Sasquatch, sasquatch,
Yeti, yeti, Abominable Snowman, abominable snowman, Monkey Man, monkey man,
big foot research, bigfoot research, research, bigfoot sightings,
sightings, bigfoot encounters, encounters, MoMo, momo, Mo Mo, mo mo,
Fouke Monster, Fouke, Arkansas, Boggy Creek Monster,
Caveman, Bigfoot footprints, big footprints, Honey Island Monster, monsters, Monsters,
Bigfoot Organizations,
bigfoot organizations, BIGFOOT ORGANIZATIONS,Bigfoot, Florida, Skunk
Ape Florida Skunk Ape, Abominable Snowman, Agogwe, Almasti, Batutut- Borneo,
Didi, Dwendi, Kakundakari, Kung-Lu, Mapinguary, Muhalu,
Sasquatch, Sedapa and Orang Pendek, Shiru, Sisimite, Skunk Ape, Tok- Burma,
Yeti, Yowie, cryptozoolody, animals, strange, glowing eyes, foot prints,
cast, footprint cast, hairy, beast, mystery, paranormal, ufo, x-files, xfiles,
sightings, sighting, IVBC, Shealy, report, howl, scream, primate, everglades,
Florida Everglades, swamp, Gigantopithecus, missing link, missing, link,
anthropology, skunk, monkey, foot, big, encounters, , eyewitness reports,
North America, Submit a Report, Submit Comments, theories,
research projects, track, cast, investigation, hair, microscopy analysis,
field research journals, The Gigantopithecus Theory, Sasquatching Equipment,
Sasquatching Tips, photograph, tracks, physical evidence, Sounds, Photos,
bigfoot, sasquatch, wildman, reports, sightings, evidence, Yeti, research