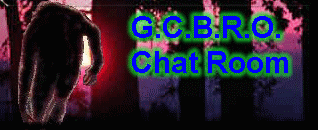 G.C.B.R.O's.
CHAT-ROOM
---

The G.C.B.R.O. is proud to announce the re-opening of it's Chat Room, for the open discussion of Bigfoot
related topics. All are welcome to join in on the chats, but we have a few guidelines you must follow. There
is to be harassment of another chat person. slandering or profanity, or de-grading of another chat
person. harassment of any kind will be tolerated. This is a pornographic Chat Room so if this is your
reason for coming here, please leave. Our Chat Room has moderators that can and WILL boot you out of the
room, if you get out of line and do not adhere to the rules and guidelines laid forth above.

To Join us in Chat you will first have to download this program.
Pal Talk
Click Here
After you have downloaded the free Pal Talk program, and
installed it on your computer, then go to the Group Icon
atop the Pal Talk screen, and then scroll down the Group
list until you see Miscellaneous. Click on Miscellaneous
and then scroll down until you find:
Gulf Coast Bigfoot Research Organization, or GCBRO.
Usually some of our members go there around 7-8pm nightly
and they open up a room under one of those names.
FYI, July 1, 2008 it is best to check with us on the message board to see
if any of us are going to be online chatting. We haven't been
online chatting with any regularity for a while now, so please
check first.


Go Back to the Gulf Coast BigFoot Research Organization's Home Page

---
All information (reports, sketches, and pictures) contained within are the sole property of the
Gulf Coast BigFoot Research Organization (G.C.B.R.O.) AND the submitting party. No
information may be reproduced, in part or in whole, without the express written consent of the
G.C.B.R.O. OR the original submitting party.
---