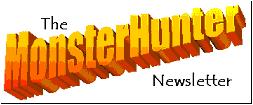 Don't miss one single issue of The MonsterHunter Newsletter. Our very own
Jim Lansdale (MonsterHunter) has opted to bring forth a much needed and very
informative newsletter to the Bigfoot community. Why? You may be asking!
Major developments have occurred, and continue to occur in the field of bigfooting,
and we intend to exhaust every effort to bring you facts, photos, and accounts
never before revealed to the public.
So, what makes The MonsterHunter Newsletter any different than any other bigfoot
book or publication? Firsthand information, thatís what. The contributors to this
newsletter not only write about it, they do it. And, they continue to do it personally on
a regular basis by spending time in areas that are rich with sightings and evidence.
Talking about it is one thing. But, when it comes to action, the buck stops here.
We will offer opinions based upon firsthand experience here. However, we will not
make far-fetched claims.
Inquiring minds want to know. And we donít mind telling in The MonsterHunter Newsletter.

The First Premier Issue of The MonsterHunter Newsletter shipped out on
Tuesday September 2, 2003. To the delight of all, it was a smashing success.
If you haven't subscribed, do so now so you don't miss one single exciting issue.
The Latest Greatest news is The MonsterHunter Newsletter is now available online.

To Subscribe to:
The MonsterHunter Newsletter
CLICK HERE
To Subscribe & read
The MonsterHunter Newsletter

The MonsterHunter Newsletter is copyrighted 2003 by Jim Lansdale.
The newsletter and its content remains the sole property of Jim Lansdale
and/or the contributors. This newsletter may not be reproduced or redistributed
without the expressed written permission of Jim Lansdale.

Home
Click the above link to return to the GCBRO Home Page.